Your Trusted Huntsville Bankruptcy Attorney
The Law Offices of Joseph G. Pleva offers expert legal advice and services to help guide clients through legal issues that they may encounter surrounding bankruptcy. Bankruptcy is difficult, but with the right bankruptcy lawyer in Huntsville, AL, you can get through it and start rebuilding faster. Let Joseph G. Pleva be your Huntsville bankruptcy lawyer today and call our office at (256) 617-7115.
---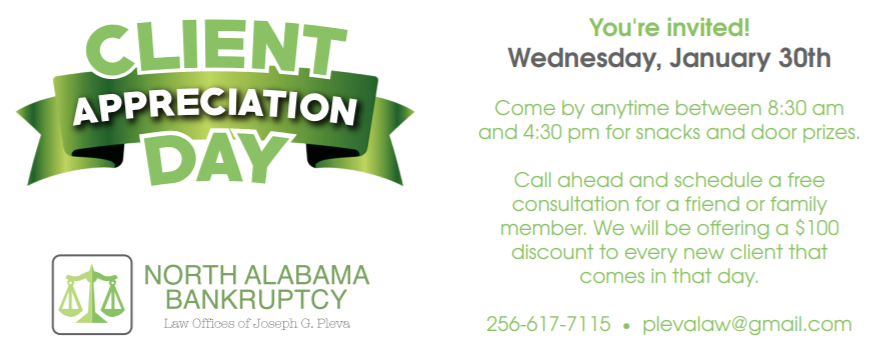 ---
Your Qualified Huntsville Bankruptcy Attorney
It's important to utilize the services of a qualified Huntsville bankruptcy lawyer who has a proven track record of successfully helping clients eliminate or restructure their debt. Bankruptcy in Huntsville, Alabama is a complicated process, and a good north Alabama bankruptcy lawyer will help clients through every step of the legal process, from enrolling in credit counseling to creating a bankruptcy repayment plan. Joseph G. Pleva has helped hundreds of local clients improve their financial health by declaring Chapter 7 or Chapter 13 bankruptcy.
Chapter 13 Bankruptcy
Chapter 13 Bankruptcy enables individuals who receive a regular income to develop a plan to repay their debts in installments over three to five years. A few types of borrowers who may benefit from filing for Chapter 13 bankruptcy are those whose homes or vehicles are at risk of foreclosure or repossession, those with excessive income tax or student loan debt, and anyone owing criminal fines, traffic tickets, or past-due child support. Borrowers whose income is too high to file for Chapter 7 may qualify for Chapter 13 bankruptcy.
Chapter 7 Bankruptcy
Chapter 7 bankruptcy gives debtors a fresh start by eliminating many of their debts, including credit card bills, personal loans, medical bills, and wage garnishments. Debtors must meet certain income criteria to be eligible for Chapter 7 bankruptcy; those whose income level makes them ineligible may qualify for Chapter 13 bankruptcy instead. Some filers whose income exceeds the state's median income may be eligible depending on how much "excess" money is left over to repay debts after taking into account their necessary living expenses.
Attorney and Filing Fees
A question people often ask us is, "How much does bankruptcy cost?" North Alabama bankruptcy attorneys usually charge a flat one-time fee for representing a client in a Chapter 7 bankruptcy. The amount of the fee is based on the complexity of the case. At the Law Offices of Joseph G. Pleva we offer a free initial consultation. During your free consultation, we determine what the fee will be. We can come up with an affordable payment plan for paying the balance of the attorney fee. The Bankruptcy Court charges a filing fee of $335 for Chapter 7 and $310 for Chapter 13. Generally, this is due at the time of filing the petition, but we can request the court to allow you to pay it in installments over 3-4 months after filing. In some circumstances, the court will waive the filing fee altogether.
Is Filing for Bankruptcy Bad?
While filing for bankruptcy in north Alabama may not be something you ever looked forward to, it's important to understand that it's not a bad thing. Many good, honest, and hardworking people will find themselves in a situation at some point in their lives that compels them to take this step. The process was established as a valid and responsible option for people who—usually through circumstances outside of their control—find themselves unable to repay debts. With expert advice and guidance from an experienced and knowledgeable bankruptcy attorney, the process should be painless. In fact, with the right counsel bankruptcy can be very manageable and even a wonderful opportunity to start fresh. It's a new chance to build good credit and to build a better future for yourself and your family.
Call Us Today at (256) 617-7115
This is meant to be general information about filing for bankruptcy and how it can help you get a fresh start. This is not meant to be legal advice. If you would like more detailed information, please feel free to contact our office. We offer free consultations to discuss your particular situation and what options are available to help you, both inside and outside the bankruptcy system. We have proudly been designated as a debt relief agency by the U.S. Congress. Our entire Huntsville, Alabama bankruptcy practice is devoted to helping people find relief from their debts and getting a fresh start.
---
Common Bankruptcy Myths:
Myth: You'll lose everything
A deterrent to filing for bankruptcy for many people is the misconception that they will lose everything they own. In fact, in the vast majority of Chapter 7 cases, the filer gives up no personal possessions. This is because they are usually filed as no-asset cases, which allows the filer to make "exemptions" for the possessions that he needs in his daily life. Many other possessions are simply not valuable enough for creditors to bother coming after.
Under Chapter 13, you can keep all of your assets, but their value may be figured into your repayment plan.
Myth: Bankruptcy will ruin your financial future
It's true that your credit score will take a hit and your access to credit will diminish when you file for bankruptcy. There's no way around that. However, the damage to your score is not irreparable and the diminished access to credit doesn't last forever.
For filers of Chapter 7, the bankruptcy can remain on your credit report for up to 10 years. For filers of Chapter 13 it can remain up to 7 years. But you can start rebuilding your credit and improving your score immediately after filing. One option is using a secured credit card. These are usually small amounts of credit: $500 to $1000 for example and are generally available for people who have recently filed bankruptcy. As you use the card responsibly and continue to make smart financial decisions, you will likely see your credit steadily grow. Eventually, you can attain an excellent credit score and regain access to a full range of credit options.
Read more myths here.